TM50: Touch Screen Keypad
Stop your friends and family in their tracks with the stunning new (5.0 in /12.7cm) TM50 Touch Screen Keypad. This flagship keypad  features best-in-class performance and presentation features on a huge wide-aspect screen while give ultra fast responses when scrolling through menus; you might even forget it's a security system. The touch screen keypad (TM50) comes a with a SD Card slot to add your own photos for slides shows. You can add your own home/business floor layout making it easier to identify intruded areas.
Paradox Wireless Security Alarm System:
The Paradox wireless alarm system includes a beautiful looking keypad that compliments any home or business finishing. The paradox security system is a very effective way of protecting your home or business. The Paradox wireless alarm system can take up to 32 security devices wireless or wired, you decide.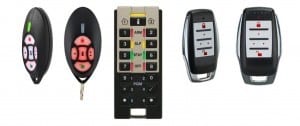 We have a wide range of remotes for you to choose from. They all come with certain features to advising you if an intrusion has occurred this preventing you from getting any surprises when you or your family get home or your staff open up your offices. The remotes have arming, stay. away functions with a panic button. It also has additional buttons to activate your gate, garage or even turn on your indoor/outside lights, giving you complete control over your home or business security.

The motion sensors and door contacts are of the latest in security surveillance systems out there. Its wireless so DIY installation is easy and both the motion sensors and door contact can be placed and moved at anytime.
Have a look at the many other benefits of having a Paradox wireless alarm system below.
Benefits: Paradox Wireless Alarm System
1. Remotes to control your home security. Remotes notify of the status of your security and includes a panic button.
2. Keypad displays the name of the area been breached.          
3. Can be set to trigger gate garage or lights.                                                                      
4.Can be used while you are at home.
5.Indoor motion sensors.
6.Battey Backup in case of Load Shedding.
7. Can be used to monitor the temperature of your home or business.
8. And much more… 
We also offer finance options on all our security products including a Free Rental Alarm System to find out more visit our webpage Free Rental Alarm Now!  T&C's  Call us on 021 762 0190 or email us on info@astronsa.co.za