Outdoor Sensors:
If you are you looking for Alarm Security System Outdoor Sensors or Outdoor Beams to add to your existing security equipment for your Home or Business you have come to the right place!  Shop here for all your alarm security system detectors, devices and sensors. Only the best deals on the market.
By comparing all the different products from the likes of Paradox, IDS, DSC, TEXECOM,  Astron SA has the most comprehensive selection of DETECTORS, DEVICES, SENSORS. At Astron SA, we pride ourselves on offering customers the very best deals. From refurbished Keypads, Pet Sensors to Remotes.
Astron SA ensures that every DETECTORS, DEVICES, SENSORS  – in every, style, size and technical spec – is offered at the lowest possible price possible. With over 20 years experience we have seen them all.So if its not on our site contact us with your inquiry and if its still available, "we will know it and find it" for you, so contact us now!
Shop here for all your outdoor security alarm sensors from:
Pet Friendly Outdoor Motion Sensors
Strip Beams
Point To Points Beams
and More
Outdoor devices
PMD85 And DG85 Outdoor Sensor
The PMD85 or DG85 Outdoor Sensor ( Digital Dual-Optic High Performance PIR )  comes in wired or wireless and overcomes the environmental challenges of the outdoors while giving you the same reliability as a high performance indoor motion detector by combining a special weatherproof design with the proven technology of Paradox's patented digital detection. The PMD85 and DG85 outdoor sensor also features patented animal immunity, which by way of two sensors, allows the unit to identify humans while ignoring animals weighing up to 40kg.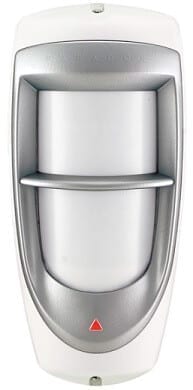 NVR780 Outdoor Beam
The Paradox Outdoor Beam NVR780 comes in wired or wireless and incorporates two independent, side-by -side passive infrared detectors into a single housing. Covering up to 24 meters (12m for each side), and configurable to report as a single unit (2 sides of the unit report to a single zone output) or dual units (each side reports to a separate zone output), the NVR780 outdoor beam provides flexible and accurate boundary protection.
VX40 Outdoor Sensor
The VX Series outdoor sensors provides an innovative solution to external area detection. It employs a high reliable duel detection method, which prevents false activations from small animals and birds.Two discrete detection areas are created and only when an intruder Is detected in both areas is an alarm output provided.
Double Conductive Shielding ensures that the outdoor sensor is resistant to interference from foreign light source such as the sun and car headlights.
The VX outdoor sensor Series is ideal for industrial, commercial and domestic applications and can be used to provide triggering into CCTV, lighting or warning systems.
Features:
Patented Double Conductive Shielding
Sensitivity selection switch
Temperature compensation
Detection length adjustment switch
Size judging function
Photocell for day and night operation
Battery operated model available
FTN Outdoor Beams Fit For All
Not only for a garden but also for a balcony
Not only for a wall side but also an area protection
Not only for a daytime but also for a night time
Features:
5m/2m narrow range
190° horizontal flexibility
Perfect per immunity
Super Multi Dimension Analysis Logic
Intelligent AND logic
Strip Beams
This infrared strip barrier outdoor beams are a hi-tech solution providing maximum protection while reducing false alarms.This is the ideal perimeter protection for businesses and homes, providing peace of mind by giving you an early warning well before intruders gain access to the building. IR strip barrier outdoor beams can be used indoors or outdoors and are available in various beam configurations (height, number of beams and range).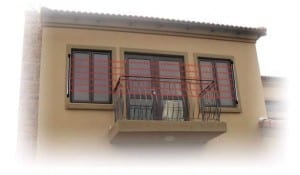 Features
10m through to 100m
Requires 2 adjacent beams to be triggered simultaneously
Photoelectric infrared beams, invisible to the intruders
Difficult to crawl under or jump over
Gravity switch for anti tilt tamper
Can adjust 180 Degrees
Excellent false alarm immunity to rain, fog, white light & RF
Simple to install, set up in minutes
Built in buzzer & LED for simple alignment
Slim line aluminum design, aesthetically pleasing
Point to Point Outdoor Beam
Description
2 simultaneous cut off detection beams
Adjustable response time of 50-700msec
Excellent immunity to fog & mist
Sensitivity monitoring output terminal
Optical axis horizontal adjustment of 90°
Optical axis vertical Adjustment of 10°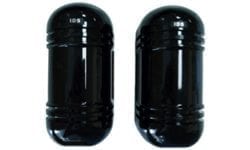 We also offer finance options on all our security products including a Free Rental Alarm System to find out more visit our webpage Free Rental Alarm Now!  T&C's 
---